Professional Profile: Tyler Silvestro, 2019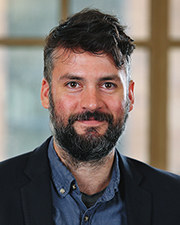 Tyler Silvestro
Name: Tyler Silvestro
Title: Senior Landscape Architect
Company: Marvel Architect
Location: New York / San Juan
Birthplace: Bridgeport, CT
Education: Master of Liberal Arts, City College of New York
First job: Basketball summer camp counselor
First job in real estate or allied field: Designer / WXY Studio in NYC
What do you do now and what are you planning for the future? I lead the landscape architecture studio and look for opportunities to expand our work in ways that impact people's daily lives. I also research emergent cities and ways they can prepare for an ecologically sensitive, urban-oriented future.
How do you unwind from a busy day? Cooking comfort food with my wife, Abigail and 3 year old daughter, Alma.
Favorite book or author: Larry McMurtry, Joan Didion, Kurt Vonnegut, Maurice Sendak
Favorite movie: "Spirited Away"
One word to describe your work environment: Energetic
Rules to live by in business: Always be gracious.
If you could invite one person to dinner (living or dead, but not related to you) who would it be and where would you go? Fredrick Law Olmsted, A BBQ in Prospect Park.
What is your dream job? Nurseryman