Professional Profile: Theresa Garelli 2018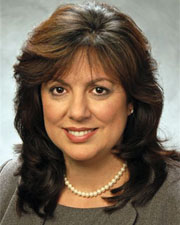 Theresa Garelli - 2018
Name: Theresa Garelli - 2018
Title: President and General Counsel
Company: Astor Title Services, LLC
Location: 225 West 39th Street, Suite 806, New York, NY 10018
Birthplace: New York
Education: Florida State University BA; Nova Southeastern University JD
First job: Teen Board, Sears Roebuck, Pompano Beach, FL
First job in real estate or allied field: A law clerk in a Florida law firm, I started reading abstracts of title, preparing title commitments, policies and closing deals.
What do you do now and what are you planning for the future? I am working with clients to close their acquisitions and refinances. I plan to do this for at least another 10-20 years. I also teach Real Estate Law at Baruch College and hope to continue to teach even after retirement.
How do you unwind from a busy day? My favorite way to unwind is to go to the beach or take a ride on our boat; during the work week, I enjoy good food, wine and family.
Favorite book or author: "Pillars of the Earth" by Ken Follett
Favorite movie: "Gladiator"
Last song/album that you purchased/downloaded? "Heartbreak" by Lady Antebellum
One word to describe your work environment: Motivating
Rules to live by in business: Guard your reputation, be true to your word, treat others with respect and express gratitude.
If you could invite one person to dinner (living or dead, but not related to you) who would it be and where would you go? I would invite Eleanor Roosevelt to my home for dinner.
What is your DREAM job? (something other than your current job) Travel and Food show host.