Professional Profile: Tara Mulrooney, 2019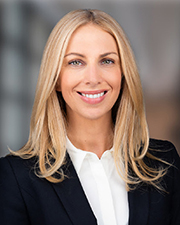 Tara Mulrooney
Name: Tara Mulrooney
Title: Partner
Company: Zetlin & De Chiara LLP
Location: 801 Second Ave., New York, NY 10017
Birthplace: Garden City, NY
Education: Georgetown University and St. John's University School of Law
First job: Lifeguard
First job in real estate or allied field: Associate at Thacher Proffitt & Wood LLP
What do you do now and what are you planning for the future? I practice in all aspects of construction law with an emphasis on representing owners in drafting and negotiating a full range of construction related agreements for all types of projects. In the future I hope to continue and expand upon my current transactional construction practice.
How do you unwind from a busy day? I grew up playing sports and played field hockey at Georgetown, so exercising is a great way for me to unwind and relieve stress. I really enjoy Pilates and on weekends love to play tennis.
Favorite book or author: I recently re-read one of my all-time favorites, "The Great Gatsby," and found a whole new understanding and perspective on the characters and story from when I first read it.
Favorite movie: I love historical movies. If it's a romantic period piece starring Kiera Knightly I'll love it.
Last song/album that you purchased/downloaded? I recently downloaded Sinatra, "Nothing but the Best," album to play at a dinner party I was hosting.
One word to describe your work environment: I try to keep my work environment organized and clutter free, which is a challenge as an attorney.
Rules to live by in business: Relationships are paramount -- always maintain the highest level of integrity in your dealings with people.
If you could invite one person to dinner (living or dead, but not related to you) who would it be and where would you go? Queen Elizabeth. I would ask her what her secret is as I am amazed by her energy level and schedule at the age of 93! I would love to hear about her experiences as a woman meeting world leaders over so many decades.
What is your dream job? I love architecture, design and art, so I would love to be an interior designer and help create beautiful spaces for people to work and live in.