Professional Profile: Susanne Angarano 2017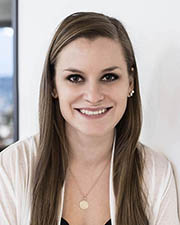 Susanne Angarano
Name: Susanne Angarano
Title: Principal/Senior Interior Designer
Company: Ashley McGraw Architects
Location: Syracuse, NY
Birthplace: Germany
Education: MA Sustainable Design Studies from Cornell University, BFA Interior Design from Syracuse University
First job outside of Design: Violin teacher
First job in design: Interior design intern at Gensler
What do you do now and what are you planning for the future? Ashley McGraw is a design firm that approaches design in a holistic and collaborative way. I strive to be a loud voice for continuing and amplifying interior design and critical design thinking as integral parts of the design process. This requires both technical and philosophical knowledge and exploration. Long term, I strive for consistent design excellence. Every project, no matter the parameters, has great potential to affect people's lives and the environment around them. This means continuous design learning, exploration, analysis, and a holistic understanding of sustainability.
How do you unwind from a busy day? Go for a walk
Favorite book or author: "Love in the Time of Cholera" by Gabriel Garcia Marquez
Favorite movie: "Pitch Perfect"
Last song you purchased/downloaded? Josh Ritter, "Homecoming"
One word to describe your work environment: Collaborative
Rules to live by in business: Listen, be proactive, think aspirationally
What is your dream job? This is my dream job – creating spaces that positively impact people and the environment and cultivate a relationship between them.