Professional Profile: Susan Soehnlen 2020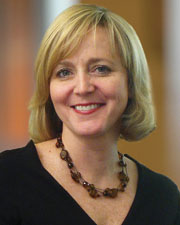 Susan Soehnlen
Name: Susan Soehnlen
Title: Vice President
Company: CallisonRTKL
Location: 233 Broadway, 16th floor, New York, NY 10279
Birthplace: Canton, Ohio
Education: BFA, Columbus College of Art and Design
First job: Superior Dairy, Inc. Navarre Ohio. Worked in the plant packing novelties (drumsticks, ice cream bars, etc.)
First job in real estate or allied field: The Architects Partnership, Chicago, IL
What do you do now and what are you planning for the future? As part of the New York leadership team, we are engaging our clients to think differently about how they use their space and how they interact with their employees and customers. This partnership allows us to co-create an environment where people are invested not only in what they do, but with each other as well. As we look for what's next in workplace, retail, hospitality and mixed-use development, we are blurring the lines and rethinking our approach to solving the next challenge—or, as we see it, the next opportunity.
How do you unwind from a busy day? If I am not out with friends, I am home watching BBC/Discovery Blue planet series.
Favorite book or author: "To Kill a Mockingbird"
Favorite movie: "Jaws"
Last song/album that you purchased/downloaded? The Weeknd/After Hours
One word to describe your work environment: Collaborative.
Rules to live by in business: Taking a cue from Jack Welsh playbook, "See change as an opportunity, good ideas come from everywhere, energize others, most of all have fun."
If you could invite one person to dinner (living or dead, but not related to you) who would it be and where would you go? Leonardo DaVinci, any place in the city. He will love New York!
What is your DREAM job? (something other than your current job) Costume Designer