Professional Profile: Stacy Lake 2021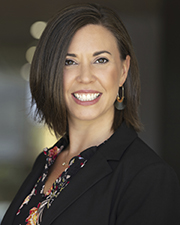 Stacy Lake
Name: Stacy Lake
Title: Corporate Communications Manager
Company: Bergmann
Location: Rochester, NY
Birthplace: Ephrata, PA
Education: BS, Marketing and MBA – Saunders College of Business at the Rochester Institute of Technology
First job: Brand ambassador at Casa Larga Vineyards
First job in real estate or allied field: Bergmann
What do you do now and what are you planning for the future? I have a fantastic role that allows me to work with an extremely talented team, learn new things every day, and interact with people on a regular basis. I oversee the corporate marketing and communications (marcom) at Bergmann. No day is ever the same, but every day I get to help our team members, clients, partners and prospective clients feel better connected to Bergmann's brand and the solutions our team members provide. Writing and helping the MarCom team grow are my passions. In the future, I look forward to growing with Bergmann and continuing to provide strategic support to our leadership team.
How do you unwind from a busy day? A session at the gym, followed by time at home with my husband, a glass of wine and good food (which is why we go to the gym!).
Favorite book or author: There are two books I constantly recommend to others – "Born a Crime" by Trevor Noah and "Extreme Ownership: How U.S. Navy Seals Lead and Win" by Jocko Willink and Leif Babin. Both very entertaining on Audible!
Favorite movie: I'm a sucker for any of the Marvel movies.
Last song/album that you purchased/downloaded? The Foo Fighters Station on Sirius XM is always on Alexa in my office.
One word to describe your work environment: Energizing
Rules to live by in business: Surround yourself with people who are smarter than you and passionate about what they do, and empower them to do their best.
What is your DREAM job? (something other than your current job) A job with the Philadelphia Eagles.