Professional Profile: Sarah Saltzberg, 2019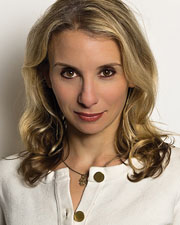 Sarah Saltzberg
Name: Sarah Saltzberg
Title: Principal Licensed Real Estate Broker
Company: Bohemia Realty Group
Location: 2101 Frederick Douglass Blvd, NY, NY and 3880 Broadway, NY, NY 
Birthplace: Needham, MA
Education: BFA from Boston University
First job: Waitress
First job in real estate or allied field: Real Renters
What do you do now and what are you planning for the future? I am the co-owner of Bohemia Realty Group, with offices in Harlem and Washington Heights. We are planning on an expansion in the next 18 months into the Bronx, East Harlem, and/or Brooklyn.
How do you unwind from a busy day? Play with my children (4 and 1.5) and then watch "Dead To Me," which my best friend created!
Favorite book or author: "Do Androids Dream of Electric Sheep"
Favorite movie: "Monty Python and the Holy Grail"
Last song/album that you purchased/downloaded? "Familiar" by Agnes Obel
One word to describe your work environment: Collaborative
Rules to live by in business: Do something you love – at least most of the time – so that even on tough days you're inspired and can find creative ways to get the job done. Working with other people effectively is the key to successful business. Learning how to collaborate effectively is the single most important skill to achieving a goal – in business or otherwise."It's business" should never be code for treating someone poorly. Foster internal collaboration, and external competition. (IE – the team should work together, and not against each other, to beat out competition.)Turn challenges into opportunities; always seek to find the positive instead of getting mired in the negative.
If you could invite one person to dinner (living or dead, but not related to you) who would it be and where would you go? David Bowie, picnic in the park.
What is your DREAM job? (something other than your current job):My other job is in the arts (I'm a writer, actress and producer) and between creating/acting in shows and running a business, I'm fulfilled! I'm fortunate to have a great business partner and a great husband that support me in my work in both fields.