Professional Profile: Samuel Charney 2016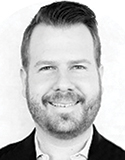 Samuel Charney - 2016
Name: Samuel Charney - 2016
Title: President
Company: Charney Construction and Development
Location: Long Island City, NY
Birthplace: Manhattan, NY
Education: Master's Degree
First job outside of real estate: Bloomberg LLP
First job in real estate or allied field: I was hired as an intern while in graduate school by Two Trees Management Co., LLC and stayed for close to 10 years.  
What do you do now and what are you planning for the future? Real estate developer building 53 condos in Long Island City, Queens and a 300,000 s/f mixed use office, retail and residential rental project in Williamsburg, Brooklyn. We are involved in every step of the process from acquisition to design development all the way through construction to sales/lease up. 
How do you unwind from a busy day in real estate? Decompress over dinner with my wife and play with and read books to my 3 year old daughter. 
Favorite book or author: Author: Kurt Vonnegut. Book: Not sure it's my favorite but I've been appreciating Hemmingway's Old Man and the Sea a lot recently. 
Favorite movie: Raising Arizona. Love the Coen Brothers. 
Last song you purchased/downloaded? Chopin Nocturne No. 2 in E Flat Major 
One word to describe your work environment: Manic
Rules to live by in business: Never let adversity overcome you. Just keep your head down, plough right through it and one day it will all be worth it. Perseverance is the key to success. 
If you could invite one person to dinner (living or dead, but not related to you) who would it be and where would you go? Jackson Pollock to Marlow and Sons. 
What is your DREAM job? (Something other than your current job) To head up a not-for-profit that solves the major food distribution problems prevalent in the world today. More specifically to help supermarkets properly distribute expiring produce to those who need it before it goes into the trash.