Professional Profile: Ryan Zegarelli 2017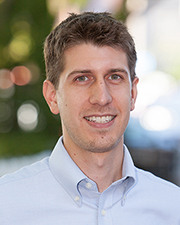 Ryan Zegarelli
Name: Ryan Zegarelli
Title: Associate & Project Architect
Company: SWBR
Location: 387 East Main St., Rochester, NY
Birthplace: Rochester, NY
Education: University at Buffalo - Bachelors of Science, Architecture
First job outside of real estate: Rochester Colonial assisting in the woodshop.
First job in real estate or allied field: Drafting & design at O'Donnell & Associates Inc.
What do you do now and what are you planning for the future? I design buildings and spaces for our college and university clients at SWBR. As a project architect, my responsibilities start at the inception of a project and continue through construction. I especially enjoy seeing the details that I've drawn come together in real-life on the construction site. I hope to become a trusted advisor to our clients and maintain the relationships that I've formed well beyond the end of the project.
How do you unwind from a busy day in real estate? Going for walks with my wife and two children and reading a good book (when they finally go to bed).
Favorite book or author: "The Church Building as a Sacred Space" by Duncan Stroik
Favorite movie: "Rudy"
One word to describe your work environment: Creative
Rules to live by in business: I have two; "Strive constantly for self-improvement" and "Believe each client is a friend, and the project is a stop along the way in that long-term relationship," Frank Stasiowski, FAIA.
If you could invite one person to dinner (living or dead) who would it be and where would you go? Norm Abram at his New Yankee Workshop.
What is your dream job? Starting a small design-build firm with my brother and dad. My wife could keep us organized and take care of the books and someday our kids would work for us.