Professional Profile: Roy Schwartz 2019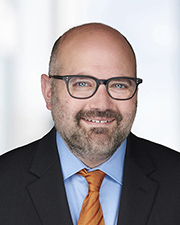 Roy Schwartz
Name: Roy Schwartz
Title: Principal
Company: Zetlin & De Chiara LLP
Location: New York, NY
Birthplace: Cherry Hill, NJ
Education: Rutgers College (BS Economics, BS Political Science); Rutgers Law-Camden (J.D.); Center for Global Change-Rutgers (M.S. Global Studies)
First job: Paperboy for the hometown newspaper
First job in real estate or allied field: Clerking for a judge.
What do you do now and what are you planning for the future? Our firm represents architects, engineers, developers, and contractors regarding litigation, contracts, formation, compliance, and other issues. Most of my own work involves litigation. For example, I address allegations of construction/design defects, delays, and business deals that have soured.
How do you unwind from a busy day? Asking my four-year old about what she painted in school (a zebra with ice cream? A really big cat? A tree with hands?), and my eight-year old about the cool comic books he's creating about teachers, spies, and robots.
Favorite book or author: Elizabeth Strout.
Favorite movie: Roger Corman's classic from 1960, "Little Shop of Horrors," which was filmed on a shoestring budget in just a couple of days.
Last song/album that you purchased/downloaded? Iron Maiden, "Book of Souls." Yes, that's right, Iron Maiden's "Book of Souls." And it's great.
One word to describe your work environment: "Fun-because-there-are-always-opportunites-to-take-on-and-solve-new-and-difficult-challenges."
Rules to live by in business: Be honest, work hard, and have fun.
If you could invite one person to dinner (living or dead, but not related to you) who would it be and where would you go? Lucille Ball, and I'd take her to Serendipity for ice cream sundaes.
What is your dream job? Producing a bio pic movie about the creators of MAD Magazine, and that somehow stars Kathy Bates, J. B. Smoove, and Warren Beatty.