Professional Profile: Ross Sapir, 2019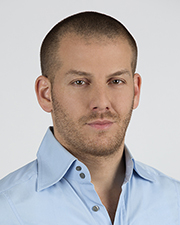 Ross Sapir
Name: Ross Sapir
Title: President
Company: Roadway Moving
Location: 845 Third Ave., 6th floor, New York, NY 10022
Birthplace: Israel
Education: High school diploma and military service
First job: When I was very young, 21 years old, I worked as a bartender for one of the biggest and best hotel chains in Israel.
First job in real estate or allied field: Moving and storage
What do you do now and what are you planning for the future? I own and operate my own moving and storage company, Roadway Moving, and plan to grow the company 10X and go nationwide in the future.
How do you unwind from a busy day? Three times a week, I work out mid-day and at the end of every day I go home to spend time with my family.
Favorite book or author: My favorite book that I would recommend is "The Road Less Stupid" (Keith Cunningham) for MBA insights.
Favorite movie: "Black Hawk Down"
Last song/album that you purchased/downloaded? Tony Robbins "UPW Playlist"
One word to describe your work environment: Energy
Rules to live by in business: Lead by example and humility - you have to have humility as a leader.
If you could invite one person to dinner (living or dead, but not related to you) who would it be and where would you go? Grant Cardon
What is your dream job? To build something in real estate development