Professional Profile: Robert Heicklen, 2019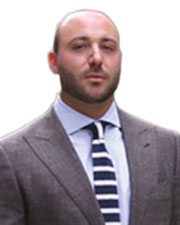 Robert Heicklen
Name: Robert Heicklen
Title: Managing Partner
Company: Stonegate Real Estate
Location: Oceanside, NY
Birthplace: Douglaston, NY
Education: B.A. International Business, Queens College
First job: Business owner - clothing/accessories
First job in real estate or allied field: Leasing agent, Winick Realty Group
What do you do now and what are you planning for the future? We founded our development/management/brokerage almost a year ago today. So much of my time is spent grown on top of brokerage/consulting. I am very much an in the moment person, but I plan to become more involved on the equity side of deals and not just programming and leasing/selling.
How do you unwind from a busy day? Still trying to figure this one out.
Favorite book or author: No favorites, but I just read "The Smartest Guys in-the-Room: The Amazing Rise and Scandalous Fall of Enron," by Bethany McLean and Peter Elkind.
Favorite movie: "The Dark Knight Rises"
Last song/album that you purchased/downloaded? No.6 Collaborations – Ed Sheeran
One word to describe your work environment: Mercurial
Rules to live by in business: Work for a purpose, not a prize
If you could invite one person to dinner (living or dead, but not related to you) who would it be and where would you go? Phil Knight, walk to Peter Lugers in Great Neck.
What is your dream job? Run a children's hospital like St. Mary's in Bayside.