Professional Profile: Rob Kluge 2020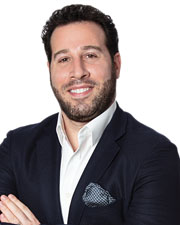 Rob Kluge
Name: Rob Kluge
Title: Senior Managing Director
Company: Current Real Estate Advisors
Location: 270 Lafayette St.
Birthplace: Marlboro, NJ
Education: Smith Business School at the University of Maryland
First job: Waiter
First job in real estate or allied field: Office brokerage, NAI Global
What do you do now and what are you planning for the future? I've always specialized in office brokerage, but I'm expanding my horizons to retail, investments and even marketing. Current is at the intersection of real estate and marketing because we not only provide our clients with best in class, feet on the ground real estate advice, but we also help them grow their business and customer base through our growing and engaged social media platforms. It takes full-service brokerage to the next level - it's not just real estate - and that's a value add that no other brokerage can provide.
How do you unwind from a busy day? I make sure to get home most nights to feed my 17-month old daughter dinner so I can spend a little quality time with her, then catch up with my wife over dinner and often do a little more work at home with a Knicks, Yankees or NFL game on in the background.
Favorite movie: I love movies so this is tough, but I'll go with "Any Given Sunday," "Rounders," "Usual Suspects," "The Wedding Singer" and "Forgetting Sarah Marshall"
One word to describe your work environment: Hustleville
Rules to live by in business: Be honest, be kind and good things will happen.
What is your DREAM job? (something other than your current job):I love to make people laugh so being a comedian would be super fun.
Stand up would be cool but making a funny movie would be amazing.