Professional Profile: Rita Tsoukaris 2017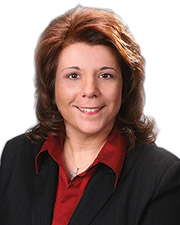 Rita Tsoukaris - 2017
Name: Rita Tsoukaris - 2017
Title: Broker/Owner
Company: RE/MAX Integrity Leaders
Location: Centereach, NY
Birthplace: Brooklyn, NY
Education: Real estate broker since 2002; earned real estate license in 1990.
First job: Law firm receptionist
First job in real estate or allied field: I worked at a Manhattan law firm.
What do you do now and what are you planning for the future? We are growing and exploring new technology in our office. Video conference software such as Skype and Facetime are important as I feel more is communicated when you talk face-to-face instead of by phone, email or text. I feel more comfortable when I am working with a person [in person] and establish a personal rapport and trust. Technology for us is about lead generation, but then we have to build the relationship in person.
How do you unwind from a busy day? I spend my free time with my family, children and grandchildren–we all enjoy family movie night together where we can just relax from the day and be together. For myself, I like to take a few moments of quiet time each day and think how to better grow my business.
Favorite book or author: "Think and Grow Rich" by Napoleon Hill and "Good to Great" by James Collins
Favorite movie: "Pursuit of Happiness"
Last song/album that you purchased/downloaded? Celine Dion
One word to describe your work environment: Energetic
Rules to live by in business: Believe in your own abilities. In business always put yourself in the other person's position and understand what they need. Don't tell them what they want to hear, tell them what they need to hear. This is the approach we take at our office and clients respect us for it. This is why they give us referrals and come back time and time again.
If you could invite one person to dinner (living or dead, but not related to you) who would it be and where would you go? I would like to have dinner with Napoleon Hill, his books are so full of real practical and proven approaches. I would like to talk to him, so dinner at a nicer restaurant where we could speak would be best.
What is your DREAM job? (something other than your current job) Real estate is my dream job; it is what I know and love.