Professional Profile: Rebecca Long 2021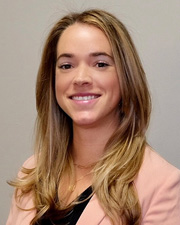 Rebecca Long, CPA
Name: Rebecca Long, CPA
Title: Audit Senior Manager – Real Estate
Company: Anchin, Block & Anchin LLP
Location: 1375 Broadway, New York, NY 10018
Birthplace: Geneva, NY
Education: B.S. in Accounting from Nazareth College of Rochester. MBA from St. John Fisher College
First job: Busser at local restaurant back home on Seneca Lake
First job in real estate or allied field: Internship at Farash Corp. in Rochester working on budgeting for rental properties
What do you do now and what are you planning for the future? I am an accounting and audit Senior Manager in Anchin's Real Estate Group. I provide financial reporting, advisory, and tax services to privately held companies. I work with clients of varying specialties, including owners and operators of commercial, industrial, and residential real estate entities; real estate funds; and employee benefit plans. Additionally, I am a key member of Anchin's Emerging Manager Platform (EMP) group. The EMP group assists start-up hedge, private equity, real estate, and venture capital firms manage their funds through every phase of business - from start-up through winding down. I find it extremely rewarding to work alongside our EMP clients as we guide them through the fund lifecycle by assisting them with a strong launch to grow their fund over time.
One word to describe your work environment: Collaborative
Two things on your bucket list: Visit New Zealand and travel around Thailand
Favorite vacation destination: Florence, Italy
Favorite book: "Little Bee" by Chris Cleave
I can't wait for the next season of: "A Million Little Things"
Rules to live by in business: Surround yourself with the best people, and remember life is short.