Professional Profile: Raquel Marrero 2020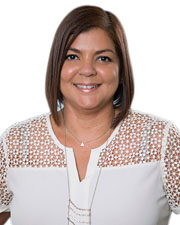 Raquel Marrero
Name: Raquel Marrero
Title: Director
Company: Marvel Architects
Location: New York / San Juan
Birthplace: Bayamón, Puerto Rico
Education: BED Univ. of Puerto Rico; MArch UCLA
First job: Drafts(wo)man for the PR Telephone Co.
First job in real estate or allied field: RTKL, Los Angeles
What do you do now and what are you planning for the future? Lead architectural project teams from early stages of design through project completion (New York and San Juan), staffing for the San Juan office and assist on strategic direction of the firm.
How do you unwind from a busy day? Catch up with the book or TV series I'm watching at the moment and play fetch with my dog, Skaya.
Favorite book or author: "Beloved," by Toni Morrison (English); "Como agua para chocolate," by Laura Esquivel (Spanish)
Favorite movie: "The Secret in their Eyes," Argentinian version
Last song/album that you purchased/downloaded? Mostly streaming music now, but if I go back, then something from Ana Tijoux, Pacifika or Lila Downs.
One word to describe your work environment: Synergetic
Rules to live by in business: "The greatest leader is not necessarily the one who does the greatest things. He is the one that gets the people to do the greatest things." – Ronald Reagan
If you could invite one person to dinner (living or dead, but not related to you) who would it be and where would you go?:Nelson Mandela (people who knew him mention he was also really funny), in Table Mountain, Cape Town, RSA.
What is your DREAM job? (something other than your current job) Travel writer for a magazine or newspaper