Professional Profile: PJ Alessi 2016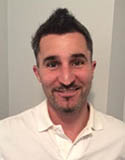 PJ Alessi - 2016
Name: PJ Alessi - 2016
Title: President
Company: Renewit Cleaning & Restoration
Location: Irondequoit, New York
Birthplace: Rochester, New York
Family: Kate Alessi (spouse) Isabella Alessi (daughter)
College: Not a college graduate. High school graduate only.
First job unrelated to your current field: Mason's helper when I was 15 year's old working on summer vacation.
First job in current field: Lead field technician for a restoration company.
What your firm does now and its plans for the future? We are claims contractors specializing in emergency property damage recovery. We perform water damage restoration, sewage backup removal, fire restoration, mold remediation, and more. We have been in business since 2007. We do everything from storm cleanup across the country to helping a resident with water damage in their 600 s/f basement.
For example, about a month ago we just returned from Houston, Tex. where we went for flood cleanup after the massive flooding they had. Our plan is to expand to Buffalo and Syracuse within the next 18 months.
Hobbies: Spending time with my family, boating, building remote control monster trucks, traveling, etc.
Favorite novel: To be honest, because of my struggles due to injuries I suffered in a car accident when I was 13, I have never read a book to the end in my entire life.
Favorite film: American Hustle
Keys to success: Listening to my instincts and making sure I have a team of skilled people
Person(s) you most admire (outside of family): Jake Adolph, my former partner that passed away of cancer at 26 years old.
If you had to choose a different profession, what would it be? Real estate developer or a fighter pilot for the Airforce