Professional Profile: Patrick O'Brien 2019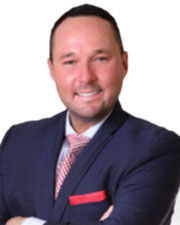 Patrick O'Brien
Name: Patrick O'Brien
Title: Senior Managing Director
Company: Keller Williams Real Estate - Commercial Division NYT
Location: 5100 Sunrise Highway, Massapequa (LI Division); and 32-55 Francis Lewis Blvd., Bayside NY (NYC Division)
Birthplace: New York, NY
Education: Associate Degree
First job: Telemarketer
First job in real estate or allied field: Douglas Elliman Real Estate, Commercial Division
What do you do now and what are you planning for the future? Currently I oversee day to day operations for Keller Williams Commercial NYT in the Massapequa and Bayside offices. Have a KW Commercial Division NYT, not only in every borough in NYC and on Long Island, but in Scottsdale AZ and Miami FL.
How do you unwind from a busy day? Spend time with my family and dog
Favorite book or author: "Think and Grow Rich"
Favorite movie: "Pursuit of Happiness"
Last song/album that you purchased/downloaded? "Purple" by Stone Temple Pilots
One word to describe your work environment: Happy
Rules to live by in business: Focus on developing relations, not transactions.
If you could invite one person to dinner (living or dead, but not related to you) who would it be and where would you go? Abraham Lincoln, One Lincoln in Gettysburg, PA
What is your DREAM job? (something other than your current job) Professional offshore powerboat racer