Professional Profile: Nicole Skaro 2020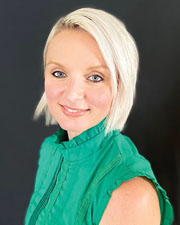 Nicole Skaro
Name: Nicole Skaro
Title: Director of Business Development and Client Relations
Company: The Falcon Group
Location: New York, NY (and for 7 other locations)
Birthplace: Morristown, NJ
Education: Berkeley College
First job: House Painting (family business)
First job in real estate or allied field: Medina Consultants
What do you do now and what are you planning for the future? I currently work as the director of business development and client relations. My goals aren't to get to a higher or different position necessarily, more so to continue to grow and change in providing the highest level of customer experience.
How do you unwind from a busy day? I listen to music, new, old and the soon to be discovered. And, if I can tie that in while doing something creative I unwind quickly!
Favorite book or author: James Patterson
Favorite movie: "My Cousin Vinny" always has been and always will be.
Last song/album that you purchased/downloaded? "Rewind, Replay, Rebound" by Volbeat (on vinyl)
One word to describe your work environment: Engaging
Rules to live by in business: Actively look for ways to treat others better than you would want to be treated.
If you could invite one person to dinner (living or dead, but not related to you) who would it be and where would you go? Anthony Bourdain, wherever his best overall dining experience was during his travels.
What is your DREAM job? (something other than your current job) To be a successful artist.