Professional Profile: Nicholas Terzulli 2018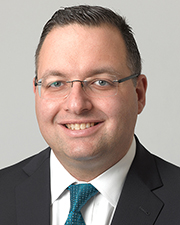 Nicholas Terzulli
Name: Nicholas Terzulli
Title: Associate
Company: Farrell Fritz, P.C.
Location: 400 RXR Plaza, Uniondale, NY 11556
Birthplace: Manhasset, NY
Education: Chaminade High School, American University, New York Law School
First job: Umpire, East Meadow Little League
First job in real estate or allied field: Director of Business Development, Nassau County Industrial Development Agency
What do you do now and what are you planning for the future? Advising businesses, developers, and nonprofit organizations on tax incentives and tax-exempt financings. I plan on growing my practice by providing counsel to businesses and organizations throughout New York State.
How do you unwind from a busy day? Playing with my two toddlers: Julia, four years old, and Maryn, two years old. Walking Tenley, my labradoodle. Cooking and reading.
Favorite book or author: "Unbroken," Laura Hillenbrand
Favorite movie: "The Godfather"
Last song/album that you purchased/downloaded? Chris Stapleton, "Midnight Train to Memphis"
One word to describe your work environment: Forward-moving
Rules to live by in business: Get the job done.
If you could invite one person to dinner (living or dead, but not related to you) who would it be and where would you go? James Addison Baker III, Peter Luger Steak House (Brooklyn)
What is your dream job? United States Secretary of Commerce