Professional Profile: Nicholas Catrone, 2019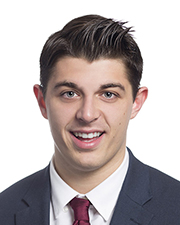 Nicholas Catrone
Name: Nicholas Catrone
Title: Control Systems Engineer
Company: AKF Group
Location: Financial District, NY
Birthplace: Port Washington, NY
Education: BS Mechanical Engineering, Binghamton University
First job: Hockey coach/instructor for summer camps at the local ice skating rink
First job in real estate or allied field: Right here at AKF Group; however, I also own and rent properties to students in Binghamton NY.
What do you do now and what are you planning for the future? I am responsible for designing building management systems for fit-out or new construction lab, hospital, higher education, and corporate facility projects. I have also been involved in kicking off AKF's newest specialty service: Start to Smart. This newest service shows our clients the values of smart building technologies and roadmaps a path for their smart building installation, interaction, and development as it applies to their space.
How do you unwind from a busy day? Typically I will play ice hockey in an adult league on Long Island, grab dinner with my family, or simply stay at home and watch the Yankees, Rangers, and Giants.
Favorite book or author: George Orwell or F. Scott Fitzgerald
Favorite movie: "Goodfellas" and "Happy Gilmore"
Last song/album that you purchased/downloaded? "The Getaway," Red Hot Chili Peppers
One word to describe your work environment: Collaborative
Rules to live by in business: Network as much as possible, try to understand other's work loads and working styles, never be afraid to ask for more time or help if needed.
If you could invite one person to dinner (living or dead, but not related to you) who would it be and where would you go? Wayne Gretzky, the greatest hockey player of all time. Anywhere Italian, hopefully.
What is your dream job? My dream job would be coaching a collegiate or professional hockey team. I love to study and teach the game.