Professional Profile: Neal Korenberg 2018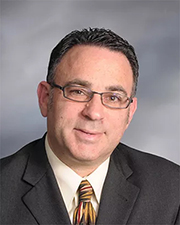 Neal Korenberg
Name: Neal Korenberg
Title: Partner, Vice President
Company: Castellano, Korenberg & Co. CPA's, P.C.
Location: Hicksville, NY
Birthplace: Jamaica, Queens, NY
Education: Richmond Hill High School (1976), CUNY Queens College (1981)
First Job: Staff accountant at N. Tannebaum & Co. CPA's. Nathan Tannenbaum (founding partner) was the accountant for Leon Hess' father.
First job in real estate: Gained exposure to construction accounting as an accounting supervisor at a firm formerly known as Castellano, Grassi and Armao. Worked there beginning in 1987.
What do you do now and what are you planning for the future? I manage a substantial client base of accounts, assist in overseeing our 35 person professional staff and direct our accounting and auditing department. In the near future, I will focus on helping to mold and train our motivated accounting professionals to become the future partners of our accounting practice.
How do you unwind: I enjoy sitting down with an old-fashioned paperback book and/or watching television. I especially enjoy the time I spend with my wife and our three adult daughters.
Favorite book: Any non-fiction, especially focused on world history
Favorite movie: Casablanca. Classic movie with the backdrop of the Second World War.
Last song/album: Can't remember. Like to listen to classic rock stations on Sirius radio.
Describe work environment: Challenging
Rules to live by in business: Find a way to say yes.
One person to go to dinner with: John Adams, our second president. A picnic in the park.
Dream job: Growing up I always wanted to be an meteorologist. I enjoyed studying weather maps.