Professional Profile: Nathan Reyna 2021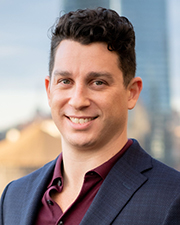 Nathan Reyna
Name: Nathan Reyna
Title: Communications Specialist, Northeast Region
Company: VHB
Location: New York, NY
Birthplace: Dallas, TX
Education: University of Texas
First job: Editorial Intern for a local publication
First job in real estate or allied field: Marketing coordinator, architecture
What do you do now and what are you planning for the future? I recently joined VHB where I liaise between our corporate team and regional marketing teams to deliver internal/external communication pieces like project stories, news, white papers, social media, speaking engagements, to name a few.
How do you unwind from a busy day? Lately, like most New Yorkers, going for a simple walk through a park (I live near Fort Tryon Park) helps immensely with unwinding – a glass of red wine also helps!
Favorite movie: During the pandemic, anything that offers some elements of escapism – think "Lord of the Rings," "Star Trek," "Jurassic Park"
Last song/album that you purchased/downloaded? Lady Gaga's Chromatica – it's so fun.
One word to describe your work environment: Home
Rules to live by in business: Don't rush!
If you could invite one person to dinner (living or dead, but not related to you) who would it be and where would you go? I'd love to get wings and beer with literally anyone, I miss seeing friends!
What is your DREAM job? (something other than your current job) I've always thought it would be cool to be a park ranger for the National Park Service.