Professional Profile: Nathan Reyna, 2019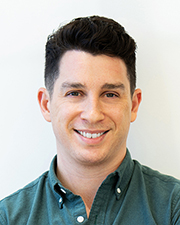 Nathan Reyna
Name: Nathan Reyna
Title: Content Manager
Company: Mancini
Location: 275 7th Ave., New York, NY
Birthplace: Dallas, TX
Education: University of Texas – bachelor's degree, Advertising & Journalism
First job: Summer camp lifeguard
First job in real estate or allied field: Public relations account manager for a major elevator manufacturer.
What do you do now and what are you planning for the future? Currently, I manage content and public relations for Mancini, a design firm with a tech-startup mentality. The ultimate plan is to expand our audience and share more stories of what we're doing.
How do you unwind from a busy day? Trying a new recipe, going for a walk, a compelling TV show or a good book.
Favorite book or author: "The World As It Is" by Ben Rhodes or anything sci-fi/fantasy fiction.
Favorite movie: "The Lord of the Rings" trilogy
Last song/album that you purchased/downloaded? "Hard Believer" by Fink
One word to describe your work environment: Evolving
Rules to live by in business: Always double-check everything!
If you could invite one person to dinner (living or dead, but not related to you) who would it be and where would you go? I'd love to grab some barbecue with Pete Buttigieg – I'll bet any conversation with him would be interesting!
What is your dream job? Park ranger or travel reporter