Professional Profile: Natalia Asido 2018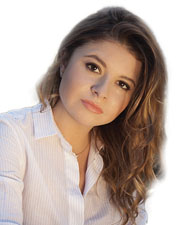 Natalia Asido - 2018
Name: Natalia Asido - 2018
Title: Real Estate Professional / Investor / Construction
Company: Douglas Elliman
Location: New York, NY
Birthplace: Born in Kiev, Ukraine but raised in Buenos Aires Argentina and Montreal Canada
Education: Real Estate & Business Concordia University
First job outside of real estate: I opened my first business at sixteen (spa) and worked as a wholesaler in China at age of 18 for five years until the age of 23.
First job in real estate or allied field: Acquisitions
What do you do now and what are you planning for the future? Throughout my numerous endeavors and travelling around the world for work purposes I knew real estate, construction and development was my calling. I am always looking for new ventures and investments.
How do you unwind from a busy day? I call my mother, host friends or just simply have a nice glass of Brunello
Favorite book or author: Dale Carnegie
Favorite movie: "Lord of War" with Nicolas Cage
Last song you purchased/downloaded? "Love in Portofino" by Dalida
One word to describe your work environment: Patience. Personally I am not the most patient person, but when it comes to real estate I am very mellow because nothing happens overnight.
Rules to live by in business: Perseverance. When I moved to New York a lot of people told me I should concentrate on rentals and that it will take me a very long time to sell anything especially in commercial real estate which is exactly what I love. I'd say the first deal I sold was a 35 unit multifamily investment property with the sell-buy side at a 2% cap rate in Brooklyn for $10.5 million in less than five months in business. I like to dream. When people tell me I cannot do something it gives me even more fire to get it done.