Professional Profile: Naji Nizam 2018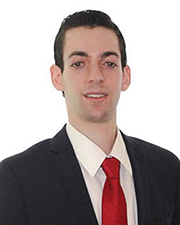 Naji Nizam
Name: Naji Nizam
Title: Associate Advisor, NYS Licensed Real Estate Salesperson
Company: SVN | Realty Three Advisors LLC
Location: Port Jefferson Station, NY 11776
Birthplace: Port Jefferson, NY
Education: Enrolled at SUNY Stony Brook University Undergraduate Business
First job in real estate or allied field: Licensed Real Estate Salesperson at Keller Williams Realty Homes and Estates of Hauppauge
What do you do now and what are you planning for the future? Balancing work and school while becoming a successful commercial real estate salesperson. In the future I would like to become a real estate broker and focus on commercial real estate sales as well as work in disability activism.
How do you unwind from a busy day? Read, workout, and listen to music.
Favorite book or author: "Donnie Brasco"
Favorite movie: "The Big Short"
Last song/album that you purchased/downloaded? "Wrap your troubles in Dreams" by Frank Sinatra
One word to describe your work environment: Professional
Rules to live by in business: Work hard and stay humble
If you could invite one person to dinner (living or dead, but not related to you) who would it be and where would you go? Muhammad Ali at the Palm in NYC
What is your drean job? Be the top guy in my field.