Professional Profile: Michael Picard, 2019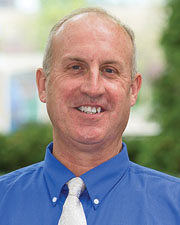 Michael Picard
Name: Michael Picard
Title: Chief Financial Officer
Company: SWBR
Location: 387 East Main St., Rochester, NY
Birthplace: Hartford, CT
Education: M.S. in Finance and Management – Rensselaer Polytechnic Institute; B.S. in Accounting – Central Connecticut State University.
First job outside of real estate: Investment accountant for a Mutual Fund Company
First job in real estate or allied field: Accounting specialist for a commercial real estate developer
What do you do now and what are you planning for the future? I am the CFO for SWBR, bringing my three+ decades of banking and financial management experience to the firm. It is my plan to help the organization continue to grow as well as mentor the next generation of senior managers who will continue SWBR's tradition of success.
How do you unwind from a busy day in real estate? I go home and assist my wife with our horse farm. It is very task-oriented and has a defined start and finish. The routine is very relaxing.
Favorite book or author: "I am Third" by Gale Sayers
Favorite movie: Malcolm X
Last song you downloaded? "The Night We Met" by Lord Huron
One word to describe your work environment: Engaged
Rules to live by in business: Clear and concise communication is imperative if you want to keep your team fully engaged and motivated. Remember you do not have all the answers and should assume you will learn something new every day. Do not take yourself too seriously, but always take what you do very seriously.
If you could invite one person to dinner (living or dead) who would it be and where would you go? I would invite Martin Luther King, Jr. to my house for a casual dinner with spirited conversations and reflection upon today's society in comparison to society in the 1960's.
What is your dream job? I have found my dream job. I am working for a progressively managed organization which shares ownership with its employees; focuses on meaningful design and has a passion for environmental stewardship. SWBR's mission statement is truly a call to action.