Professional Profile: Michael Buesing 2020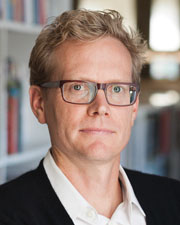 Michael Buesing
Name: Michael Buesing
Title: Senior Associate, Studio Technical Director
Company: FXCollaborative
Location: New York, NY
Birthplace: California
Education: University of Texas at Austin
First job: Neighborhood lawncare and landscaping in Texas
First job in real estate or allied field: Summer intern at AHT Architects in Santa Monica, CA
What do you do now and what are you planning for the future? Day to day my role is working with project teams to review and resolve project technical design issues, and to assist teams in maintaining the high level of design and technical expertise for which FXCollaborative is well known. My future plans include continuing work to keep FXCollaborative projects on course for our 2030 Commitment goals and to further integrate sustainability into our everyday workflow through Passive House principles and related means.
How do you unwind from a busy day? Go for a walk in nearby Riverside Park to enjoy the trees and the sunset over the Hudson River.
Favorite book or author: Cormac McCarthy's "The Border Trilogy"
Favorite movie: "Dr. Strangelove"
Last song/album that you purchased/downloaded? Courtney Barnett has been my streaming service go-to for quite a while.
One word to describe your work environment: Collegial
Rules to live by in business: We depend on open and rigorous collaboration to design functional humanistic spaces that protect our planet's resources.
If you could invite one person to dinner (living or dead) who would it be and where would you go? John Muir, for a stroll and picnic in Yosemite Valley.
What is your DREAM job? (something other than your current job) Backcountry forest ranger in one of our beautiful national parks.