Professional Profile: Michael Beattie 2020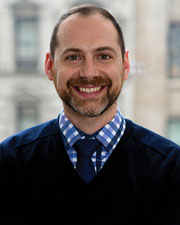 Michael Beattie
Name: Michael Beattie
Title: Vice President
Company: AKRF, Inc.
Location: New York City and Hudson Valley
Birthplace: Ridgewood, NJ
Education: BS in Civil Engineering from Rensselaer Polytechnic Institute and MS in Engineering from University of California – Berkeley.
First job: Summer job working for the family construction business
First job in real estate or allied field: Transportation consulting firm in California
What do you do now and what are you planning for the future? I'm the department head of AKRF's traffic and transportation group, leading roadway improvement and development projects for public and private clients while specializing in multi-modal microsimulation, Complete Streets, and innovative roadway design. Looking ahead, I plan to continue helping municipalities achieve a sustainable, vibrant, and safe environment through context-sensitive and innovative transportation designs.
How do you unwind from a busy day? Listening to podcasts on the subway ride home, running, playing basketball, and some Netflix binge-watching.
Favorite book or author: "Time and Again" by Jack Finney
Favorite movie: Tie between "The Usual Suspects" and "Tommy Boy"
Last song/album that you purchased/downloaded? "Holding onto the Feeling" by
Bobby Bazini, although technically the last download was "You're Welcome" from Moana for my daughter.
One word to describe your work environment: Innovative
Rules to live by in business: Strive to exceed expectations
If you could invite one person to dinner (living or dead) who would it be and where would you go? Either Steve Martin or Martin Short at any restaurant in Florence, Italy.
What is your DREAM job? (something other than your current job) Barista at my own café.