Professional Profile: Mia Lorenzetti Lee 2020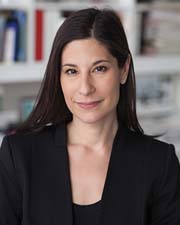 Mia Lorenzetti Lee
Name: Mia Lorenzetti Lee
Title: Studio Director
Company: Dattner Architects
Location: New York, NY
Birthplace: New Jersey
Education: MArch University of Pennsylvania. BA Lafayette College
First job: Cashier at Shammy Shine
First job in real estate or allied field: Designer at LTL Architects
What do you do now and what are you planning for the future?:I am a PM and the director for our educational, healthcare, and institutional studio. Future plans are to focus on the professional growth of our team and expand the complexity and scale of our work.
How do you unwind from a busy day?:My commute home serves as a relaxing transition between my worlds.
Favorite book or author: Margaret Atwood, Jennifer Egan
Favorite movie: Anything Hitchcock
Last song/album that you purchased/downloaded?:Lizzo's "Good As Hell"
One word to describe your work environment: Collaboratve
Rules to live by in business: Set high standards. Take risks.
If you could invite one person to dinner (living or dead, but not related to you) who would it be and where would you go?:My husband. Baegyangsa Buddhist temple to taste nun Jeong Kwan's food.
What is your DREAM job? (something other than your current job):Dance choreographer with a pilot's license.