Professional Profile: Megan Elgard 2021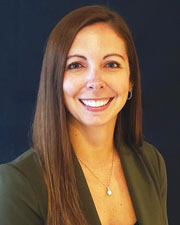 Megan Elgard
Name: Megan Elgard
Title: Director of Business Development
Company: The Falcon Group
Location: North Bridgewater, NJ
Birthplace: Raritan, NJ
Education: Bachelor Degree in Business Administration and Entrepreneurial Studies- Rider University
First job: Sales associate at The Gap
First job in real estate or allied field: Technical recruiter for Adecco – Engineering Service Professionals
What do you do now and what are you planning for the future?:I am the director of business development and would love to continue to see this company grow into more regions throughout the east coast and bring my experience to the table to help out others professional growth as well as my own.
How do you unwind from a busy day?:I love to go to the gym after work or for a nice walk outside then cook a good dinner and watch a movie with a glass of wine.
Favorite book or author: "Catcher in the Rye" by J.D. Salinger
Favorite movie: "Ace Ventura When Nature Calls"
Last song/album that you purchased/downloaded?:"Bigger Love" by John Legend
One word to describe your work environment: Supportive
Rules to live by in business: Be efficient with your energy. Surround yourself with the best.
If you could invite one person to dinner (living or dead, but not related to you) who would it be and where would you go?:Heath Ledger and Roots Steakhouse
What is your DREAM job? (something other than your current job):Singer (if I could sing)