Professional Profile: Matthew Mueller 2021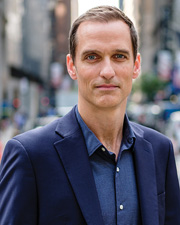 Matthew Mueller
Name: Matthew Mueller
Title: Partner
Company: PBDW Architects LLP
Location: New York, NY
Birthplace: Grand Island, NE
Education: Kansas State University
First job: Mowing lawns in Missouri
First job in real estate or allied field: Laborer and carpenter for a construction company
What do you do now and what are you planning for the future? I lead our business development and diversity, equity, and inclusion initiatives. My goal is to continue PBDW's legacy of mentorship to ensure our staff become truly well-rounded architects, fluent in the best design practices of both historic and contemporary construction.
How do you unwind from a busy day? Swimming and then dinner with my family. Always dinner together at the table…and we never skip dessert.
Favorite book or author: George Hagen, because he is a fellow Park Sloper and a friend.
Favorite movie: "Cinema Paradiso"
Last song/album that you purchased/downloaded? "Re-Animator" by Everything Everything
One word to describe your work environment: Collaborative
Rules to live by in business: It's better to say "I don't know," and "I'll get back to you," than to pretend you know the answer, and be wrong. Earning trust is more important than appearing intelligent.
If you could invite one person to dinner (living or dead, but not related to you) who would it be and where would you go? Simon Sinek wherever there is warm, outdoor dining right now.
What is your DREAM job? (something other than your current job) A professional european camper (is that a thing?)