Professional Profile: Matthew Lupiani, 2019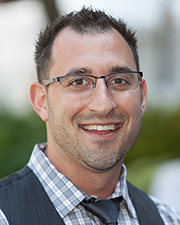 Matthew Lupiani
Name: Matthew Lupiani
Title: Senior Associate, Project Manager, Syracuse Office Manager
Company: SWBR
Location: Syracuse, NY office
Birthplace: Rochester, NY
Education: Master of Architecture from Tulane University (New Orleans, LA). Also possesses Bachelor of Architecture from Tulane University, and an Associates of Applied Science in Architectural Technologies from SUNY Alfred.
First job outside of real estate: Newspaper delivery, computer service and repair at Computer Doctor of Rochester, and commercial painting with Mike Lupiani Painting.
First job in real estate or allied field: Self-employed doing three-dimensional computer rendering/visualizations for service professor's clients for their residential projects. Professional internship and subsequent full-time employment with Reynolds, Smith & Hills, a national AEC firm based in Jacksonville, FL (was employed at the satellite office in Tampa, FL.)
What do you do now and what are you planning for the future? With the firm's continued expansion in CNY market and my growing family (had fourth child in June with others 4, 2, and 1 years old), right now I am growing professionally as a leader and personally as a father. Probably like most of us I'm planning to be present in the "here and now" to help others around me in as many ways possible.
How do you unwind from a busy day in real estate? I like to engage with my three toddlers and help my wife unwind from her busy day at home with them! We play sports, look thru a telescope and learn about space, and talk about how everyone's day went. Unfortunately a busy day sometimes means a late night and missing them before bedtime, but I'm so happy to be able to come home to them all and relax with my wife.
Favorite book or author: Most recently Rhythms of Life by Russell G. Foster and Leon Kreitzman
Favorite movie: More of a TV series binge-watcher to be honest! Cliff-hanger endings really have a different effect on viewers these days.
Last song you downloaded? "State of the Art (AEIOU)" by Jim James
One word to describe your work environment: Supportive.
Rules to live by in business: Stay curious. Always do your best. Lead by example. Use logical problem solving. Keep things relative. Be helpful.
What is your dream job? Really an inner conflict here. How do you say you're trying your best with it right now without giving yourself a ceiling to keep growing and becoming a transformational leader? I love that we as architects get to help people live and enjoy their lives better by applying our empathy and creative thinking alongside them.