Professional Profile: Marcos Vigil 2021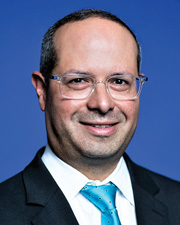 Marcos Vigil
Name: Marcos Vigil
Title: Senior Consultant
Company: Carrasquillo Law Group
Location: San Francisco, CA
Birthplace: Fajardo, Puerto Rico
Education: Princeton University, A.B. History/Latin American Studies and Fordham University School of Law, J.D.
First job in real estate or allied field: Commercial and construction litigation attorney - Thelen Reid & Priest LLP (New York)
What do you do now and what are you planning for the future?:At CLG I focus on advising clients through their own local government issues and on development projects located in Opportunity Zones. For the future, I plan on continuing to expand our practice throughout Latin America, and the West Coast, and teaching.
How do you unwind from a busy day?:Unwinding–listen to music while cooking, or listen to sports or comedy podcasts (also while cooking)
Favorite book or author: Jose Luis Gonzalez, Milan Kundera
Favorite movie: Star Wars: Episode V
Last song/album that you purchased/downloaded?:"Vivir Sonando," Norbert Velez, Desde La Loma Live Sessions
One word to describe your work environment: Hogareno
Rules to live by in business: Keep it simple. Be straightforward. End the day with a smile.
If you could invite one person to dinner (living or dead, but not related to you) who would it be and where would you go?:My Middle School and Elementary School principal, Mrs. Hilda Velazquez, and the late dean of admissions at Princeton, Fred Hargadon. They both were "gate openers" (as opposed to gatekeepers) not only for me but many other disadvantaged students in whom they saw potential. I would probably take them on a chef catered cruise in a place of their choosing – Mediterranean, Pacific Islands or Caribbean