Professional Profile: Lynanne Weyner 2020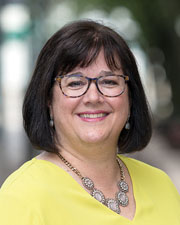 Lynanne Weyner
Name: Lynanne Weyner
Title: Project Architect
Company: SWBR
Location: Rochester, NY
Birthplace: Atlanta, GA
Education: Bachelor in Environmental Design
First job: Calling patients at a dentist office to remind them of their appointments
First job in real estate or allied field: Working summers between college for local architectural firms.
What do you do now and what are you planning for the future? I am an architect who primarily works on K-12 school projects. When I retire I would like to design house additions and new homes.
How do you unwind from a busy day? Take my dog for a walk when I get home.
One word to describe your work environment: With the COVID-19 situation, it is very quiet. We only have about a third of our normal staff working in the office. The rest are working from home.
Rules to live by in business: There are no wrong questions.
Favorite book or author: "The Gargoyle"
Favorite movie: "Ferris Bueller's Day Off"
Last song/album that you purchased/downloaded? "Everyday Life" by Coldplay
If you could invite one person to dinner (living or dead, but not related to you) who would it be and where would you go?:Oprah, and dinner at the Eiffel Tower Restaurant
What is your DREAM job? (something other than your current job):Working in a yarn manufacturing business.