Professional Profile: Luis Bustamante 2020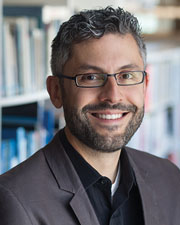 Luis Bustamante
Name: Luis Bustamante
Title: Associate
Company: FXCollaborative Architects
Location: New York, NY
Birthplace: Mexico City, Mexico
Education: University of Miami, Coral Gables, FL
First job: During high school at a Publix Supermarket in Weston, FL
First job in real estate or allied field: Cooper Robertson & Partners in New York, NY
What do you do now and what are you planning for the future? Currently I am on-site every day as the field architect for a public school under construction on Long Island City's waterfront. I am also a member of FXCollaborative's sustainability workgroup where, after being inspired by an eye-opening class I took with Parsons's Healthy Materials Lab, I work to identify and integrate healthy material selections into our future projects.
How do you unwind from a busy day? Reading a bedtime story to my one-year-old daughter. And then crafting a bourbon-based cocktail shortly after.
Favorite book or author: Three-way tie between Ursula LeGuin, Italo Calvino, and Haruki Murakami.
Favorite movie: "Wings of Desire" by Wim Wenders.
Last song/album that you purchased/downloaded? "Freedom Flight" album by Shuggie Otis.
One word to describe your work environment: Ambitious and empathetic.
Rules to live by in business: 1. Build an environment of trust with your client and team. 2. Today's junior team members are tomorrow's leaders. Every experience is an opportunity to be a mentor and motivate curiosity. 3. Don't make assumptions. There are no stupid questions, only the ones that don't get asked.