Professional Profile: Lou Switzer 2020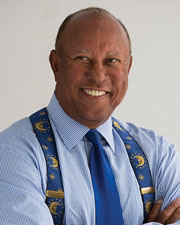 Lou Switzer
Name: Lou Switzer
Title: Founder, CEO, Chairman
Company: The Switzer Group
Location: 3 E 54th Street, New York, New York 1002
Birthplace: Orangeburg, S.C.
Education: Pratt Institute
First job: Supermarket clerk
First job in real estate or allied field: Mailroom at Sherbourne & Associates, a well respected interior architecture firm involved in many Wall Street brokerage houses, now known as "Wealth Management."
What do you do now and what are you planning for the future?: Since 1975, I have been the founder / CEO of The Switzer Group, a design firm specializing in workplace solutions. For the future, I hope to continue fostering growth from within the firm, cultivating our diverse talent to contribute to the sustained success of the firm.
How do you unwind from a busy day?: Spending time with my family, and enjoying my favorite glass of Cabernet.
Favorite book or author: "The Man from Moscow" by Philip McCutchan
Favorite movie: Rear Window, an all time classic.
Last song/album that you purchased/downloaded?: To be honest I can't remember the last time I've purchased or downloaded a song/album, but I will tell you I'm a big fan of 60s music.
One word to describe your work environment: Collaborative
Rules to live by in business: I have three: 1) Always respect others. 2) Say what you mean and mean what you say. 3) Commit and keep your promises.
If you could invite one person to dinner (living or dead, but not related to you) who would it be and where would you go?: Jeff Bezos. Not sure exactly where I would go since I have so many choices to select from, living in New York City. I would just have to make it his preference.
What is your DREAM job? (something other than your current job): Real estate developer.