Professional Profile: Liz Archer 2020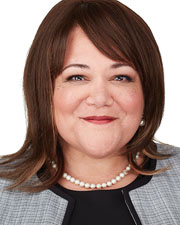 Liz Archer
Name: Liz Archer
Title: Business Development Manager
Company: Francis Cauffman Architects
Location: New York, NY
Birthplace: New York, NY
Education: BS, Architectural Technology
First job: Blueprint girl at Bowman & Williams
First job in real estate or allied field: Administration for Mitchell Giurgola Architects
What do you do now and what are you planning for the future? I manage business development for FCA's NYC office, and we are strategizing about how to help our clients with architectural solutions. We're a high-touch firm, so our Principals stay intimately involved throughout the entire project.
How do you unwind from a busy day? I like listening to salsa music, enjoying a drink, and chatting with friends.
Favorite book: "Autobiography of a Yogi" by Paramahansa Yogananda; my favorite author is Alice Walker
Favorite movie: "The Buena Vista Social Club"
Last song/album that you purchased/downloaded? Lizzo's "Truth Hurts"
One word to describe your work environment: Awesome.
Rules to live by in business: Trust your instincts, be authentic, speak up, curate, and always be kind.
If you could invite one person to dinner who would it be and where would you go? I would love to have a picnic with Buckminster Fuller, in my mom's stained glass geodesic dome, on a sunny afternoon.
What is your DREAM job? (something other than your current job) To work for a developer who builds cafés and hosts events at the top of huge bridges.
Favorite Architectural Space: Eero Saarinen's TWA Terminal at JFK
Favorite Things: The Vessel, Gateway Arch, Oculus, and the Brooklyn Bridge Walkway.
Favorite Quote: "People will forget what you said or did, but they'll never forget how you made them feel." - Maya Angelou