Professional Profile: Lisa Waterman, 2019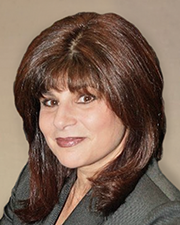 Lisa Waterman
Name: Lisa Waterman
Title: Founder
Company: iLaw, Inc.
Location: 990 Stewart Ave., Suite 520, Garden City, NY 
Birthplace: Brooklyn, NY
Education: BA from the State University of New York College at Oneonta; Ashridge Management College, UK
First job: School scope reporter for WGBB
First job in real estate or allied field: Coordinating networking events for real estate and other like-minded professionals to increase their books of business.
What do you do now and what are you planning for the future? iLaw has seen grassroots growth since its inception, and we are now more focused on growing the listserv and growing the brand by adding Continuing Legal Education (CLE) programs, as well as new members, and advertisers.
How do you unwind from a busy day? Every day is a busy day, so if I wasn't in the gym in the morning, the weight stack is a great way to ease the stress.
Favorite book or author: So many to choose from, how can I pick a favorite? My literary tastes are eclectic running the gamut from historical fiction to action and suspense. John Grisham satisfies my inner lawyer, and Dan Brown's historical thrillers are a must. Local resident/author Nelson DeMille always manages to provide the right combination of mystery, sarcasm, and humor for a great summer beach read.
Last song/album that you purchased/downloaded? The Best of Earth Wind & Fire
One word to describe your work environment: Non-stop
Rules to live by in business: Negativity has no place in business, so eliminate the word "no," and the phrase "it can't be done." Set the goal, and find a way to achieve it.
If you could invite one person to dinner (living or dead, but not related to you) who would it be and where would you go? I would take professor Anita Hill wherever she wanted to go for a nice long dinner and discussion.
What is your dream job? A champion who rights wrongs and fights injustice.