Professional Profile: Leticia Blaya Fornataro 2018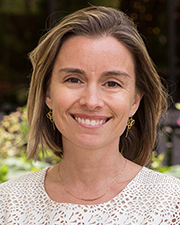 Leticia Fornataro
Name: Leticia Fornataro
Title: Senior Associate, Project Manager
Company: SWBR
Location: Rochester, NY 
Birthplace: Porto Alegre, Brazil
Education: Universidade Ritter dos Reis, Brazil – undergrad; University of Utah, B.Arch and M. Arch
First job outside of real estate: Created (and sold) my own fashion line
First job in real estate or allied field: Intern at an interior design firm
What do you do now and what are you planning for the future? I design senior living communities, and hope to continue to make a positive impact on seniors' lives.
How do you unwind from a busy day in real estate? I try to keep up with my kids, and volunteer at different organizations in our community
Favorite book or author: Luck is not a plan for your future: Design your own tomorrow today.
Favorite movie: The Big Blue, by Luc Besson
Last song you downloaded? Tua Cantiga, by Chico Buarque
One word to describe your work environment: Collaborative
Rules to live by in business: Great work ethics, strategic thinking, and respect. Understand our client's business and operations, which will ultimately influence/impact our designs.
If you could invite one person to dinner (living or dead) who would it be and where would you go? Coco Chanel – a business woman ahead of her time, visionary and an example of a successful self-made innovative and creative business person.
What is your dream job?
To design a beach resort