Professional Profile: Leslie Jenkins, 2019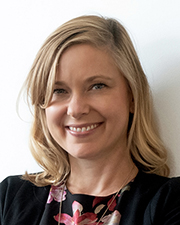 Leslie Jenkins
Name: Leslie Jenkins
Title: Director of Marketing & Communications, Senior Associate
Company: FXCollaborative
Location: 22 West 19th St., New York NY 
Birthplace: Independence, Missouri
Education: Bachelor of arts in International Studies, University of Missouri-Columbia
First job: I worked at a great record store chain in Kansas City during high school. I credit Streetside Records for first training me in the importance of customer/client service, along with exposing me to some great '90s music!
First job in real estate or allied field: I started as a marketing coordinator at T.Y. Lin International in San Francisco in 1999. To this day, I still refer to San Francisco-Oakland Bay Bridge New East Span as "my bridge." (Marketing professionals, along with designers, often feel a real sense of pride and ownership in the projects we touch!)
What do you do now and what are you planning for the future? I am excited to be diving in as the new director of marketing & communications at FXCollaborative. I have always admired the firm and its diverse and impressive portfolio of work, so am thrilled to now be working with the team on a variety of strategic initiatives.
How do you unwind from a busy day? I love to cook, spend time with family and friends, and plan my next adventure or trip.
Favorite movie: I can't stop thinking about Midsommar. Go see it!
Last song/album that you purchased/downloaded? I completely embraced streaming music after the great hard drive disaster of 2008. I listened to Leon Bridges and MGMT radio last night.
One word to describe your work environment: Collaborative (of course!)
Rules to live by in business: Be honest, be authentic, and treat everyone with respect. Make time for mentorship and building your team's skills and trust, as creating a positive and collaborative environment is the best way to ensure success.
What is your dream job? In my next life, I would love to be a travel/food writer.