Professional Profile: Leonardo Diaz 2022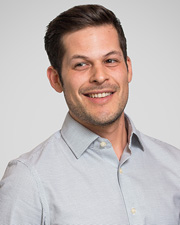 Leonardo Diaz
Name: Leonardo Diaz
Title: Project Manager
Company: Marin Architects
Location: 57 W 38th St., New York, NY 10018
Birthplace: Chula Vista, CA
Education: R.A. graduated from ITT, Tijuana B.C., Mexico
First job: TESKA, Tijuana B.C., Mexico.
First job in real estate or allied field: Colkitt & Co.
What do you do now and what are you planning for the future? Coordinate residential new buildings and commercial interior fit outs.
How do you unwind from a busy day? CrossFit
Favorite book or author: Stephen King, except the endings.
Favorite movie: "Insidious"
Favorite streaming series: "RuPaul's Drag Race"
One word to describe your work environment: Welcoming
Rules to live by in business: Don't overthink it!
If you could invite one person to dinner (living or dead, but not related to you) who would it be and where would you go? Antoni Gaudi, tacos from Tijuana
What is your DREAM job? (something other than your current job) Any job that requires traveling the world.