Professional Profile: Layla Vrabel 2021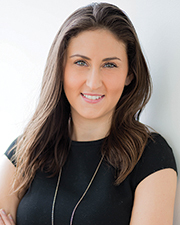 Layla Vrabel
Name: Layla Vrabel
Title: Senior Associate & Studio Director
Company: Mancini Duffy
Location: New York, NY
Birthplace: Hackensack, NJ
Education: B.Arch, Syracuse University (2011)
First job: Barista at Marketstreet Coffee Shop in my hometown, Purcellville, VA
First job in real estate or allied field: Summer intern for APD Engineering and Architecture
What do you do now and what are you planning for the future?:I am a senior architect and studio leader at Mancini Duffy, working on a range of project and client types. I see my future as continuing to grow my team and client base here at Mancini Duffy, and to continue to grow as a leader.
How do you unwind from a busy day?:I switch my mental frame by doing a task that does not involve the computer, like going for a walk with my family, going for a run on my own or cooking dinner. These are all things I enjoy and provide a nice end cap to my day.
Favorite book or author: Emily Giffin books are my favorite, I love the way she develops characters and their relationships
Favorite movie: "La La Land," "Breakfast at Tiffany's" and "Roman Holiday" (Audrey Hepburn), or "Gangster Squad" is a good one too (a lot of my favorite actors)
Last song/album that you purchased/downloaded?:The Spins by Mac Miller and also redownloaded the La La Land sound track recently (it's the best)
One word to describe your work environment: Mobile
Rules to live by in business: Preparation is the key to limiting stress, and always be two steps ahead of a those that rely on your guidance, whether it be team members working for you or your clients.
If you could invite one person to dinner (living or dead, but not related to you) who would it be and where would you go?:I would invite Audrey Hepburn to go out for pasta in Italy somewhere (she lived there for awhile and I love Italy also—I studied abroad in Florence