Professional Profile: Kristen Gizzi 2016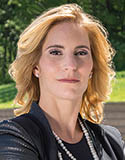 Kristen Gizzi - 2016
Name: Kristen Gizzi - 2016
Title: General Counsel, Director of Real Estate
Company: ECCO Development LLC
Location: 201 Saw Mill River Road, Yonkers, NY 10701
Birthplace: Yonkers, NY
Education: University of New Hampshire-Durham, New Hampshire and Brooklyn Law School- Brooklyn Heights, New York 
First job outside of real estate: Assistant District Attorney at the Queens County District Attorney's office in Kew Gardens, New York
First job in real estate or allied field: I did some residential RE closings early in my career. 
What do you do now and what are you planning for the future? Now-The thing that I like most about my job is that every day is different which makes this a difficult question to answer.  My job consists of traditional legal work such as providing legal advice, drafting contracts, preparing leases and other documents related to bids, letters of intent, joint venture agreements to name a few.   Additionally, I handle various types of disputes with vendors, sub-contractors, tenants and municipalities.  I also handle commercial, retail and industrial acquisitions of new real estate for the Company from the due diligence phase through to contracts, financing, determining the appropriate holding entity to form and the formation of same. It is also my responsibility to ensure compliance and accuracy of the corporation books for all of the entities, real estate and the like.
As the Executive Director of Litchfield Crossings, I am continually working to further develop and manage the Center by meeting with existing tenants, with potential tenants, real estate brokers, overseeing property management and working closely with our public relations abs website design firms. In essence, I am responsible for the operations, promotion and marketing of Litchfield Crossings. I am also very fortunate and excited to be involved with the local government and community in New Milford Connecticut, where the Center is located. Future - I don't look too far into the future because I realized a while ago that despite my attempts at planning things, they never go the way you expect. Accordingly, I try to do the best that I can every day and be open to whatever comes my way.
How do you unwind from a busy day in real estate? I work out as much as possible to de-stress and I spend time with my two amazing daughters to unwind and have fun after a busy day at work. 
Favorite book or author: Dr. Wayne W. Dyer.  He is an internationally renowned author and speaker in the field of self-development.
Favorite movie: "It's a Wonderful Life"
Last song you purchased/downloaded? "Unsteady" by X Ambassadors
One word to describe your work environment: Stimulating
Rules to live by in business: Say what you mean and mean what you say. Your word and your integrity are your only true asset. 
If you could invite one person to dinner (living or dead, but not related to you) who would it be and where would you go? My biggest daily struggle as a working single mom is to find balance in my life.  Therefore, I would love to have dinner with myself in 20 years! 
I would ask about the mistakes I made and where I found happiness and where I devoted time and stress needlessly, so I can make the appropriate changes going forward.      
What is your DREAM job? (something other than your current job) My dream job is to work with children (middle school age to high school age) whereby I would develop a program where I could meet with children in small groups for conversations about important LIFE topics that are typically not addressed in the typical school curriculum. 
For example, I think it is critically important to have open ongoing communication with both boys and girls about topics such as healthy love, types of abuse, different kinds of addictions, self-acceptance, friendship and family issues.  An example of an important project that I would include in the program would be to have the children complete a Wheel of Life and I would assist each child to break down their goals and help them identify their priorities in life so they can continue to evaluate their choices in order to find their balance for a healthy life and a bright future.