Professional Profile: Kimberly Mura 2020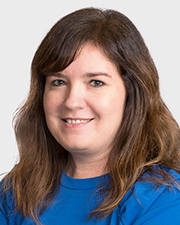 Kimberly Mura
Name: Kimberly Mura
Title: Senior Marketing Coordinator
Company: SWBR
Location: Rochester, NY
Birthplace: Rochester, NY
Education: SUNY Brockport, Bachelor of Science, English/Literature
First job: Collating publications at a printing company.
First job in real estate or allied field: SWBR
What do you do now and what are you planning for the future? As part of SWBR's talented marketing team, I'm responsible for content marketing that promotes the firm's unique brand identity, positioning, and expertise. As the firm grows, I'm excited to showcase our expertise to a wider audience.
How do you unwind from a busy day? Sitting on my deck next to the propane fire pit.
Favorite book or author: Song of Solomon, Toni Morrison
Favorite movie: "The Royal Tenenbaums," I can't stop watching it when it's on TV.
Last song/album that you purchased/downloaded? Anything that'll keep me moving on the treadmill.
One word to describe your work environment: Collaborative
Rules to live by in business: Surround yourself with creative and smart people. There's nothing like being part of a great team.
If you could invite one person to dinner (living or dead, but not related to you) who would it be and where would you go? Oprah Winfrey
What is your DREAM job? (something other than your current job): Book editor or working for an NFL team.