Professional Profile: Kimberley Petredis 2020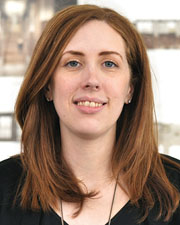 Kimberley Petredis
Name: Kimberley Petredis
Title: Senior Associate
Company: FXCollaborative
Location: New York, NY
Birthplace: Long Island, NY
Education: BA in Interior Design from Becker College
First job: Mother's Assistant at age 11.
First job in real estate or allied field: Design assistant at a hospitality design firm
What do you do now and what are you planning for the future?:I am an interior designer/project manager. Would like to become a design director and eventually a partner at a design firm.
How do you unwind from a busy day?:Laying in my hammock and reading.
Favorite book or author: "The Autobiography of Malcolm X: As told by Alex Haley" or "Marie Antoinette: The Journey" by Antonia Fraiser
Favorite movie: "Desperately Seeking Susan," "Auntie Mame"
Last song/album that you purchased/downloaded?:Lizzo
One word to describe your work environment: Eventful
Rules to live by in business: Be nice but do not let people walk all over you; and speak from knowledge, not from fear of being left out of the conversation.
If you could invite one person to dinner (living or dead, but not related to you) who would it be and where would you go?:Elizabeth Warren at Le Jardinier or any restaurant designed by Joseph Dirand. I am obsessed and inspired by both.
What is your DREAM job? (something other than your current job):I would have loved to have become a writer. I love reading and the idea of creating a world in that way has always really appealed to me.