Professional Profile: Kevin Clyne 2023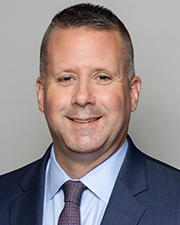 Kevin Clyne
Name: Kevin Clyne
Title: Partner
Company: Herman Katz Cangemi Wilkes & Clyne, LLP
Location: Melville, NY
Birthplace: Brooklyn, NY
Name: Kevin Clyne
Title: Partner
Education: BA (Political Science) Loyola University MD, JD Hofstra University
First job: Working on a Wise Potato Chip truck
First job in real estate or allied field: Clerking in the tax certiorari department of a Brooklyn law firm
What do you do now and what are you planning for the future? We are commercial property tax advisors, not just appeal attorneys. It is our job to not only keep our client's property taxes as low as possible, but also to provide as much certainty as possible to each new client transaction or development. The plan is to continue to amass both talent and experience and build relationships in the geographic areas in which we practice.
How do you unwind from a busy day? I should probably learn how to do that.
Favorite book or author: "The Alienist" by Caleb Carr
Favorite movie: "Judgment at Nuremberg"
Favorite streaming series: "Homeland"
One word to describe your work environment: Frenetic
Rules to live by in business: Never assume you're the smartest person in the room and never stop learning.
If you could invite one person to dinner (living or dead, but not related to you) who would it be and where would you go? John Adams, Delmonicos circa 1900
What is your DREAM job? (other than your current job): Centerfield for the NY Yankees, what else?