Professional Profile: Kelly Dougherty 2022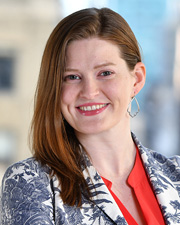 Kelly Dougherty
Name: Kelly Dougherty
Title: President
Company: FirstService Energy
Location: New York, NY
Birthplace: Mineola, NY
Education: M.S. in Sustainability Management, Columbia University's Earth Institute; B.S. in Management & Labor Relations, Rutgers University
First job: Restaurant hostess
First job in real estate or allied field: HVAC Service Department dispatcher
What do you do now and what are you planning for the future? I lead an internal energy advisory team that focuses on helping FirstService Residential-managed properties reduce carbon emissions and energy consumption.
What do you see as an emerging or dominant trend in real estate for 2022? I see new and existing buildings focusing on going all electric and moving away from fossil fuels. I also see a broad acceptance of smarter technologies that tell us more about what's going on and can control what's happening in our buildings.
How do you unwind from a busy day? I spend time with my daughter and husband.
Favorite book or author: "The Ghost Map"
Favorite movie: "Back to the Future"
One word to describe your work environment: Passionate
Rules to live by in business: Treat everyone with respect and respect will be given back to you. When you don't know something, ask. Learn something new every day.
If you could invite one person to dinner (living or dead, but not related to you) who would it be and where would you go? Henry Ford
What is your DREAM job? (something other than your current job) Talk show host