Professional Profile: Keith Moorhouse 2018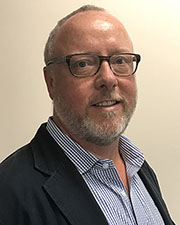 Keith Moorhouse
Name: Keith Moorhouse
Title: Chief Operating Officer
Company: Ryan Soames Engineering DPC
Location: New York, NY
Birthplace: Newcastle, England
Education: Project Management Professional and Accountancy.
First job outside of real estate: I have spent 25 years in the shipping industry, building and operating bulk commercial ships for the dry bulk and oil tanker industry.
First job in real estate or allied field: Chief Operating Officer of Ryan Soames Engineering DPC
What do you do now and what are you planning for the future? I am establishing a startup MEP Engineering Company with two pillars of the NY Engineering world, who I respect and admire greatly. Our ambition is to create a 50 staff engineering company that people line up to work for. We are at 16 in less than a year.
How do you unwind from a busy day? Fly fishing and watching TV with my wife, and a glass of wine.
Favorite book or author: "All Creatures Great and Small" by James Herriot
Favorite movie: The Charles Laughton version of "Mutiny on the Bounty"
Last song you purchased/downloaded? "These Days" by Glen Campbell (super middle of the road!)
One word to describe your work environment: Collaborative.
Rules to live by in business: Do what you say you will when you said you would, and employ people who make you look like you made the right choice.
What is your dream job? The one I have.