Professional Profile: Keith Kennedy 2021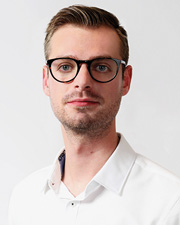 Keith Kennedy
Name: Keith Kennedy
Title: Vice President of Strategy
Company: Mancini Duffy
Location: New York, NY
Birthplace: Hartford, CT
Education: New Jersey Institute of Technology, BS Construction Management
First job: Marketing assistant at Fuss & O'Neill, a multi-disciplinary engineering firm based in New England.
First job in real estate or allied field: (same as above)
What do you do now and what are you planning for the future? My role as a business strategist is to help my firm tell our future story. We know what we do today but not necessarily what we'll do tomorrow. Working with our teams to think outside the box and dream about what could be is very exciting. And then, it's even more exciting to be the one to set it all in motion and make sure we get there.
How do you unwind from a busy day? Recently I've started doing more learning when I get home. I try to watch YouTube videos on how to do something useful that I've not done before, or even taken some virtual classes on programming.
Favorite book or author: I find that books lose relevancy by the time they hit the market in our world that demands instant access, so I love discovering new writers who contribute to publications like Harvard Business Review.
Favorite movie: It varies with my mood, but recently I've rewatched The Breakfast Club several times. Such a classic.
Last song/album that you purchased/downloaded? With streaming services, I feel like downloading a new album is a daily occurrence. But, I've only recently jumped into Podcasts and I have to say they consume much of my listening time. I listen to The Daily, How I Built This, and Side Hustle School every single day.
One word to describe your work environment: Driven. We're on the forefront of delivering design to our clients by leveraging technology in new and exciting ways—everyone at Mancini Duffy comes on board because they want to continue improving how we meet our clients' individual business goals.
Rules to live by in business: I still religiously follow the 80-20 rule and, it in fact, is the basis of almost every decision I make.
If you could invite one person to dinner (living or dead, but not related to you) who would it be and where would you go? I'd love to meet up with Steve Jobs – I've always felt that we think on a similar wavelength and I admire that he was unwavering, able to stick to his guns, and was able to see ahead and make incredible changes in the world.
What is your DREAM job? (something other than your current job) Recently I've thought that it'd be super cool to work in AI or machine learning. Such cool advancements to be a part of.